For this holiday season, Gratien & Meyer has designed two exceptional bottles on which the emblems that constitute the living heritage of the House have been silk-screened. A heritage born from the union of the vineyards, the historic "art deco" style building, the highest tufa cellars in Saumur and the majestic view of the Valley of the Kings. These exclusive bottles contain two new cuvées designed for the occasion: a Crémant de Loire AOC Brut Blanc 2016, and a Saumur AOC Brut Blanc 2018.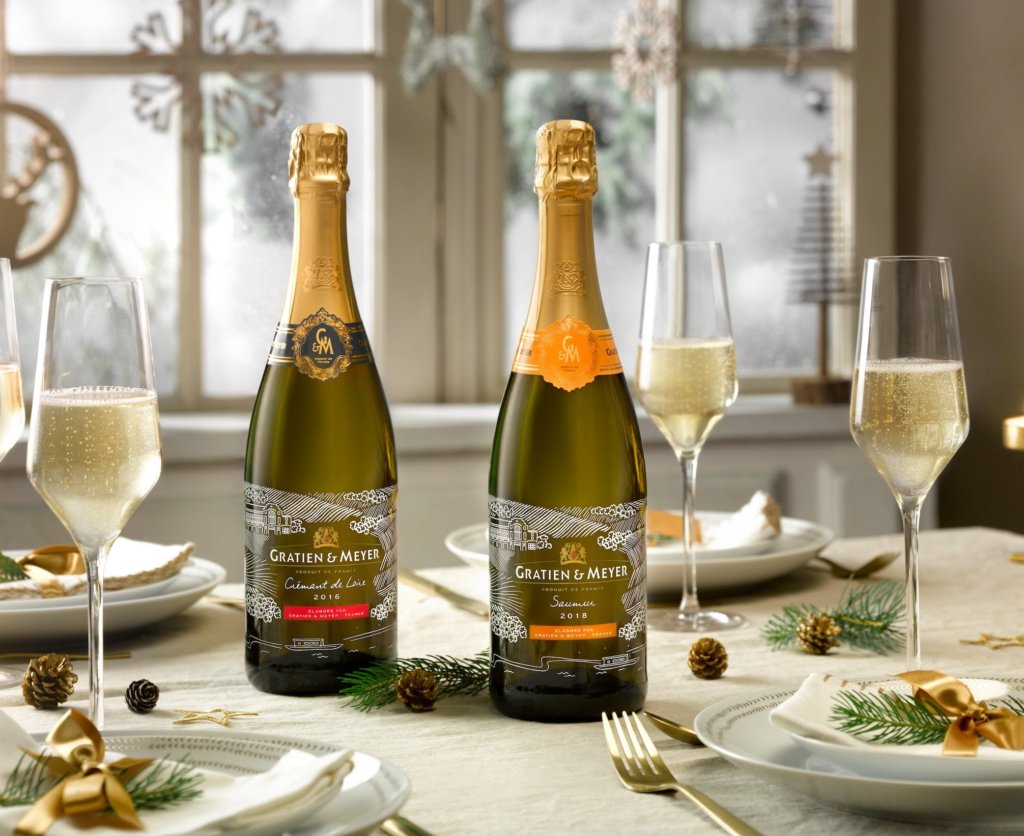 Faithful to the historical know-how of the House, these two cuvées have been elaborated according to the principles of the traditional method: selection of the juices during the pressing, alcoholic fermentation in thermo-regulated vats, light aging on fine lees, and the addition of foam in the bottle during the second fermentation…
CRÉMANT DE LOIRE AOC BRUT BLANC 2016, BETWEEN ELEGANCE AND FRESHNESS.
Made from Chardonnay (50%), Chenin Blanc (40%) and Pinot Noir (10%), the Crémant de Loire AOC Brut Blanc 2016 has been aged on laths for 48 months, beyond legal requirements.
Its color, clear and bright, reveals light golden reflections. The nose is elegant and complex with toasted notes and aromas of exotic fruits, punctuated by mineral touches. In the mouth, the attack is flattering accompanied by a creamy effervescence. The exotic fruit aromas are enhanced by notes of toast and sweet spices such as vanilla.
The finish is very pleasant and long combining freshness and aromatic complexity. Ideal for the aperitif, the Crémant de Loire AOC Brut Blanc 2016 will also be pleasant at the table accompanied by white meat such as a supreme of poultry with morel sauce.
SAUMUR AOC BRUT BLANC 2018, ALL IN FINESSE AND BALANCE.
Made from 70% Chenin Blanc and 30% Chardonnay 30%, the Saumur AOC Brut Blanc 2018 has been aged on laths for 24 months, beyond legal requirements.
Its color is clear and bright with lovely pale yellow highlights. The nose is complex, with notes of white-fleshed fruits and toasty, vanilla notes. On tasting, this wine is very elegant, with a very pleasant creamy effervescence, a nice volume and a lot of finesse. Its freshness gives this wine a nice balance. The finish is long and complex, combining volume and tension.
At the table, the 2018 Saumur AOC Brut Blanc will go wonderfully with scallops, risotto with porcini mushrooms, or creamy soft cheeses such as Brie or Camembert.
---
For more on luxury lifestyle, travel and news follow our Instagram and subscribe to our VIP network to access special invites, discounts, and upgrades.