At Christie's or Sotheby's, the message is the same: the art market is doing very well. With a total estimate of more than a billion dollars in one week of sales, starting November 15, "we are reaching our most important season since 2015," a record year, says the president of the fine arts department at Sotheby's, Brooke Lampley. "During the pandemic, demand remained strong among buyers, but they no longer saw the level of supply they were used to."
In New York, the offer will be there, even if no piece exceeds 100 million euros. Undoubtedly, Sotheby's has won the jackpot, with the Macklowe Collection, resulting from the divorce of New York real estate tycoon Harry Macklowe and his wife Linda, pronounced in 2018, and presented by the company as "the largest collection of modern and contemporary art ever put on the market" ($ 600 million).
Of the 65 pieces, 35 will be offered for sale on the same evening on November 15 (the rest in spring 2022), with an estimated value of $400 million. Highlights include Alberto Giacometti's "The Nose," an impressive suspended bronze on which the sculptor began work in 1947, and "No. 7," a minimalist painting by Mark Rothko, each estimated at $70 million to $90 million.
The collection also includes Andy Warhol's famous "Nine Marilyns" ($40-60 million), as well as a "Sixteen Jackies" ($15-20 million), but also several works by living artists, such as Jeff Koons, Rudolf Stingel, Wade Guyton or Tauba Auerbach.
"There is an incredible demand for contemporary art produced by working artists today," Brooke Lampley emphasizes. At Sotheby's, the evening of November 18 will be devoted to sales of works from the last 20 years, with two Banksy works each estimated at several million euros.
DIGITAL TOUCH
Christie's also starts its season with a "21st century" sale, betting on sure values, Banksy but especially on a monumental painting by Jean-Michel Basquiat ("Guilt of golden teeth"), executed in 1982 during one of his stays in Modena (Italy), in the midst of his meteoric rise. The painting, depicting a voodoo figure in a mess of graffiti and numbers, is estimated at $40-80 million.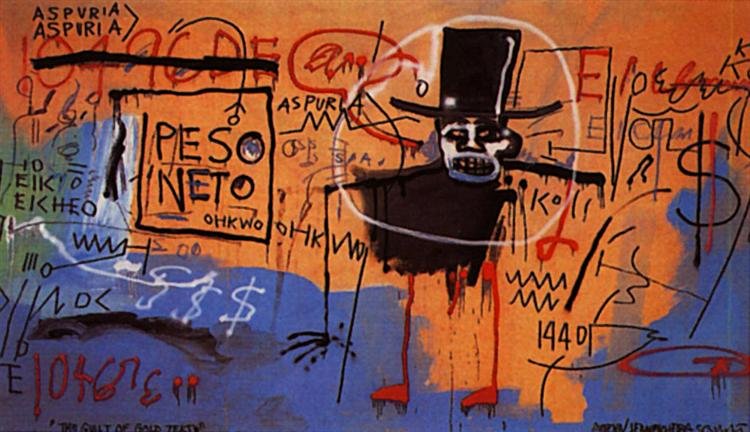 Beeple's "Human One" will give the evening a digital touch that is now unavoidable: a man in a futuristic Daft Punk-like suit moves through an evolving natural setting. But beware, the installation has the particularity of being able to be modified remotely by the artist, even once it is installed in the buyer's living room.
Christie's will also be auctioning the collection of Impressionist works by Texas industrialist Ed Cox, a wealthy Republican Party donor who died in 2020. Degas, Renoir, Monet, Pissaro, Cézanne, Caillebotte, the masters of this movement are represented there mostly with work, except Vincent Van Gogh, with three paintings. Finally, a record could be broken for a Frida Kahlo at Sotheby's, with the self-portrait "Diego y yo" ($30 million).
The house will also sell a rare original copy of the U.S. Constitution signed on September 17, 1787 in Philadelphia ($15-20 million).
---
For more on luxury lifestyle, travel and news follow our Instagram and subscribe to our VIP network to access special invites, discounts, and upgrades.