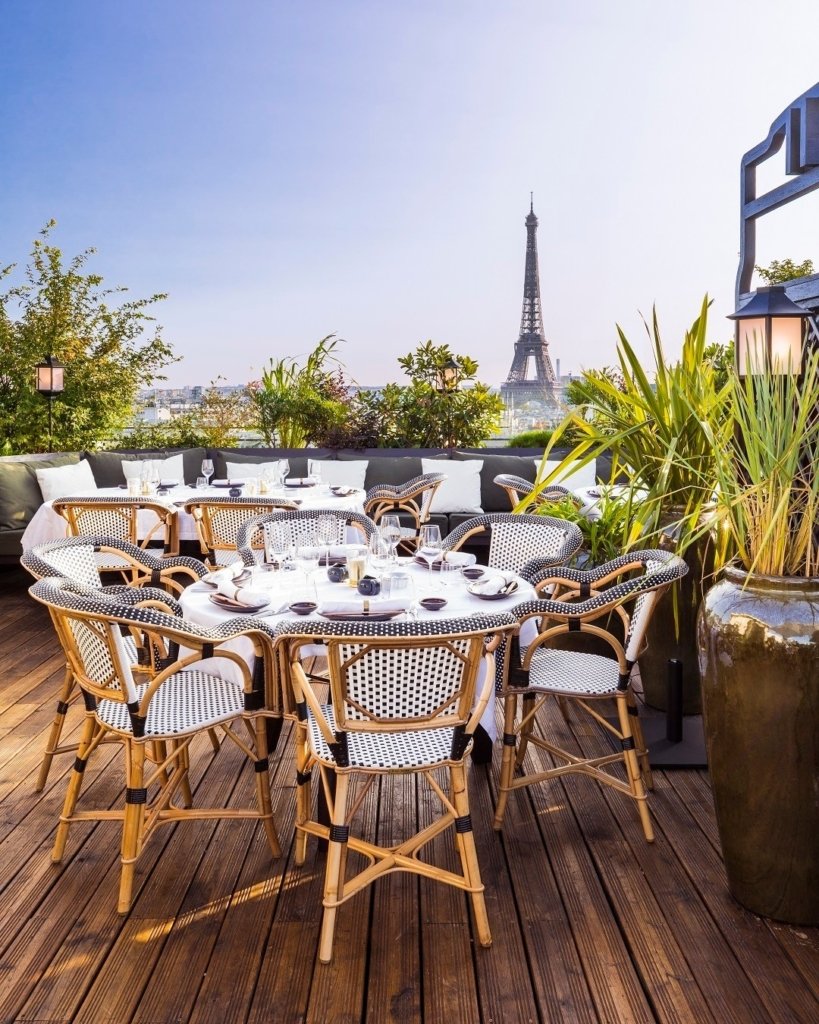 —— MUN ——
Located on the world's most beautiful avenue, at the top of the building housing Chanel's headquarters, Mun is the latest addition to the Paris Society. This rooftop is a genuine plant paradise, consisting of a huge garden in the air with 100 seats on the terrace, and incredible views on the Effeil Tower and the Sacré Coeur. The menu is a true ode to Asia with Japanese-inspired dishes concocted by chefs Julien Chicoisne and Roland Puse. The restaurant has a luxurious sushi bar, which offers flavors such as scampi carpaccio with lemon caviar, crispy chicken with tonkatsu sauce, and many other dishes that will delight your taste buds. On the cocktail side, you will find Aurélien Fleury, who will suggest succulent mixtures using saké.
Mun is currently open to public. To book a table in the stunning rooftop here.
—— APICIUS ——
Located in the 8th arrondissement, in the garden of a private hotel acquired by Michelin-starred chef Mathieu Pacaud in 2017, Apicius is a terrace that you don't want to miss this summer. This place will make you feel like you just stepped out of Paris into an Alice-in-Wonderland-style garden. With its beautiful and quiet elevated terrace, the bar offers a succulent selection of vintage champagnes and refined sake cocktails. You'll get to enjoy its wooden decoration and its braided armchairs while sipping a delicious drink in the sun. For a unique gastronomic moment, Apicius also has its own restaurant with a terrace overlooking the garden. The brunch menus, elaborated by chef Mathieu Pacaud, are to die for. If serenity had a name, it would be Apicius.
Apicius is currently open to public. To book a table visit here.
—— BOCCA-SUR-SEINE ——
Located across from the Bois de Boulogne, between the Suresnes and Saint-Cloud bridges, Bocca sur Seine is the new chic guinguette of the moment – and it is set to open on June 1, 2021. Its terrace combines a restaurant area, a tapas bar and a cocktail bar to enjoy the festive spirit with your feet in the water. As for the menu, the Mediterranean accents and summer flavors will not fail to make you feel like you are on the French Riviera: Gallega style octopus, roasted eggplant, sea bass carpaccio and many more delicious meals. Finally, a guinguette wouldn't be complete without the ambiance, and we can tell you that their vibrant musical selection and unique DJ sets will keep you entertained all summer.
Bocca is currently open to the public. More information about the location and booking here.
---
For more on luxury lifestyle, travel and news follow our Instagram and subscribe to our VIP network to access special invites, discounts, and upgrades.