Looking for a vacation that blends relaxation, gastronomy, and a bit of history? Look no further, as we have compiled a list of five handpicked destinations that cater to all types of travelers. Whether you prefer contemporary elegance in Montpellier or rustic charm in the countryside, these locations provide a diverse array of experiences. Climb up Pic Saint-Loup, tour Burgundy's vineyards, or marvel at Arles' Roman amphitheaters. Savor gourmet dishes and spa treatments while immersing yourself in French culture and heritage. Keep reading to find your next ideal escape.
Nestled amidst sprawling vineyards near Montpellier, the Domaine de Verchant is a five-star manor that seamlessly blends modern touches into its old stonework. This sumptuous country estate offers contemporary Italian design, exquisite cuisine from chef Damien Cousseau, and warm hospitality. The estate boasts a working winery where guests can sample the local wine and 17 hectares of vineyards that produce Merlot, Syrah, and Grenache grapes.
The manor and its annexe offer 26 gorgeously decorated rooms, including spacious Junior Suites with private terraces overlooking the vines. Despite the tranquil countryside setting, the Domaine de Verchant is just a short two-minute drive or ten-minute bike ride away from Montpellier.
The estate's spa, pool, tennis court, and traditional French boules pitch provide ample opportunities for relaxation and recreation. After working up an appetite, indulge in chef Damien Cousseau's audacious Mediterranean menu, perfectly paired with wines from the estate.
For those who wish to explore the surrounding area, the hotel offers guided tours of Montpellier, a hike to the top of Pic Saint-Loup for breathtaking views of the region, and access to three nearby golf courses. Guests can also visit the beautiful fortified town of Carcassonne, located within driving distance from the estate.
In short, the Domaine de Verchant is an unparalleled nouveau-vintage locale where guests can truly immerse themselves in the heart of southern France and experience the finer things in life.
---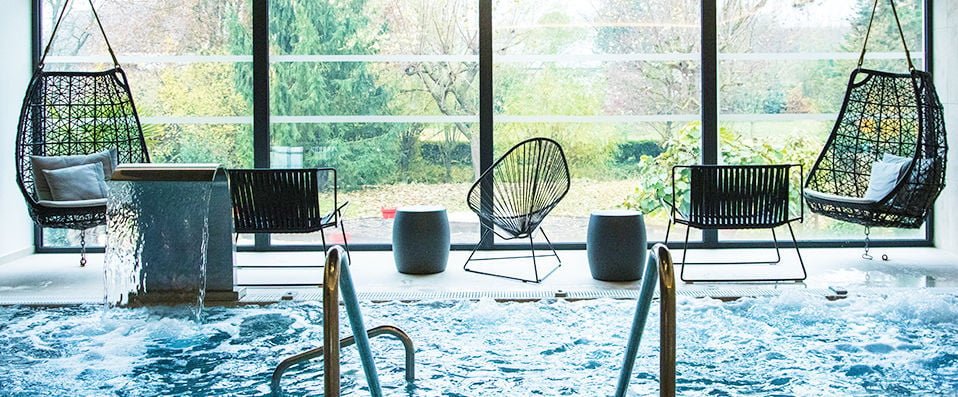 RICHEBOURG HOTEL RESTAURANT & SPA
Le Richebourg Hotel Restaurant & Spa, located in the heart of Burgundy's wine-making region, offers a rural haven featuring spacious rooms with modern amenities, air conditioning, free Wi-Fi, and flat-screen TVs. The elegant and stylishly decorated rooms offer a warm, bright, and sophisticated ambiance, perfect for unwinding after a day exploring the vineyards.
One of the hotel's highlights is the Zen spa with an open-air hot tub and locally-produced beauty products, providing a truly organic experience. Le "Vin-T-age," the hotel's aptly-named restaurant, serves dishes made only with locally farm-grown ingredients and features an all-natural wine list.
When you're ready to explore, the hotel staff is happy to provide suggestions. They recommend visiting the nearby Ferme Fruirouge, where you can taste organic small red fruits such as raspberries, strawberries, and cherries, which they transform into jams, drinks, and condiments. Another must-visit location is La Maison des Vins, a wine-tasting cellar where you can sample the Domaine François Gerbet vineyard's wines, as well as the first and grand crus of the Vosne-Romanée vineyards. Additionally, Le Cellier Volnaysien in Volnay offers an array of Burgundy specialties, including Burgundy escargots, and, of course, a glass of wine.
---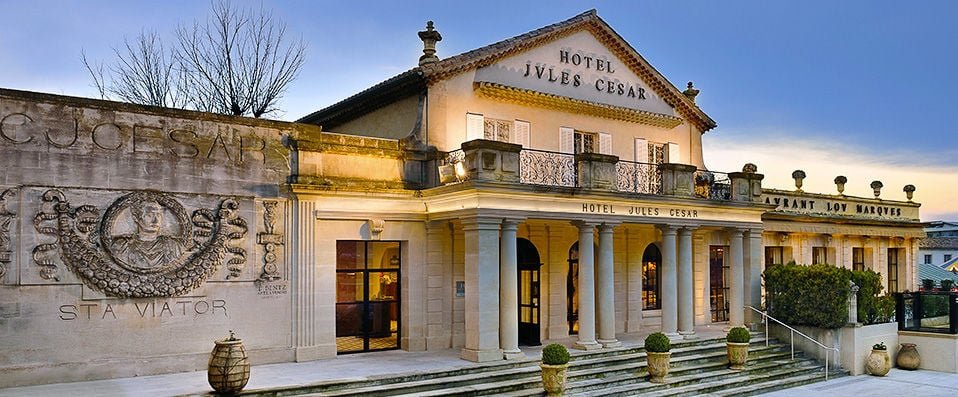 HOTEL JULES CÉSAR ARLES MGALLERY
Looking for a unique and unforgettable experience in Arles? Look no further than the Hôtel Jules César Arles MGallery, designed by world-class designer Christian Lacroix.
Arles has a rich history, having been a major port town during Cesar's Roman Empire, and it remains an impressive location to this day. The Jules Cesar Hotel blends classic and modern design to create a five-star experience that is truly unforgettable.
The bedrooms are adorned with beautiful frescos, some featuring block patterns and others depicting antique paintings. The restaurant and bar boast a unique design that juxtaposes modern checkerboard flooring with wooden panels, velvet antique armchairs, and black and white photography and murals. The seasonal menus by the hotel's fantastic chefs are also a work of art.
The hotel's cloistered garden and pool are perfect for relaxing, and the spa features a sauna, hammam, jacuzzi, and fitness room. And if you're interested in exploring Arles, there are many must-see attractions nearby, including the Fondation Vincent Van Gogh, the Musée Réattu, L'Atelier restaurant, and the famous Café Van Gogh.
So why not live like one of the greats and book your stay at the Hôtel Jules César Arles MGallery?
---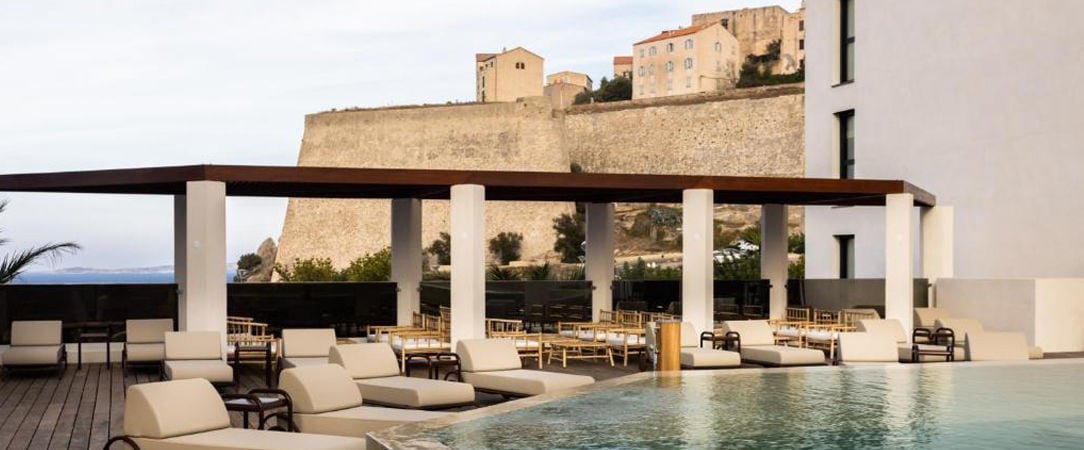 Hotel Kasano is a grand and magical establishment located on a rocky peninsula at the foot of a citadel, overlooking the bay of Calvi. The hotel is run by two sisters, Leria and Lolla Ceccaldi, who draw on their passion for hospitality and conviviality, providing guests with a warm and comfortable experience.
The hotel boasts under 40 rooms and suites, each one with stunning views of either the cerulean blue sea or the citadel. The rooms are decorated with soft harmony and relaxation in mind, with fabrics by Pierre Frey, colorful artwork by Hom Nguyen, and vintage pieces from the 1970s.
The attention to design and décor extends throughout the hotel, with concrete resin, brushed metal, designer fabrics, and colorful wall frescos adorning every corner. The Loria Bar is a particular highlight, with its inviting outdoor terrace and tantalizing spritz cocktails.
For those seeking relaxation, the Casanera Spa offers a sweet parenthesis to rejuvenate the body and soul. The spa features a steamy hammam, a pine-scented sauna, and a soothing warm water pool infused with the signature scent of the brand's essential oil, infused with immortelle.
Outside of the hotel, guests can explore the charming old citadel and stroll by the boats docked in the port. The Calvi Cathedral is also worth a visit. For those interested in scuba diving, the Plonge Castille Centre offers training in English and German.
Foodies will delight in the exquisite French cuisine at Le Nautic, where they can enjoy everything from mussels to pizza. And for those seeking sun and sand, Calvi Beach and Plage de l'Algo to the west offer beautiful bays with clear waters.
All in all, Hotel Kasano offers guests an unforgettable experience with its luxurious amenities, unique atmosphere, and incredible location close to the sea and the old city of Calvi.
---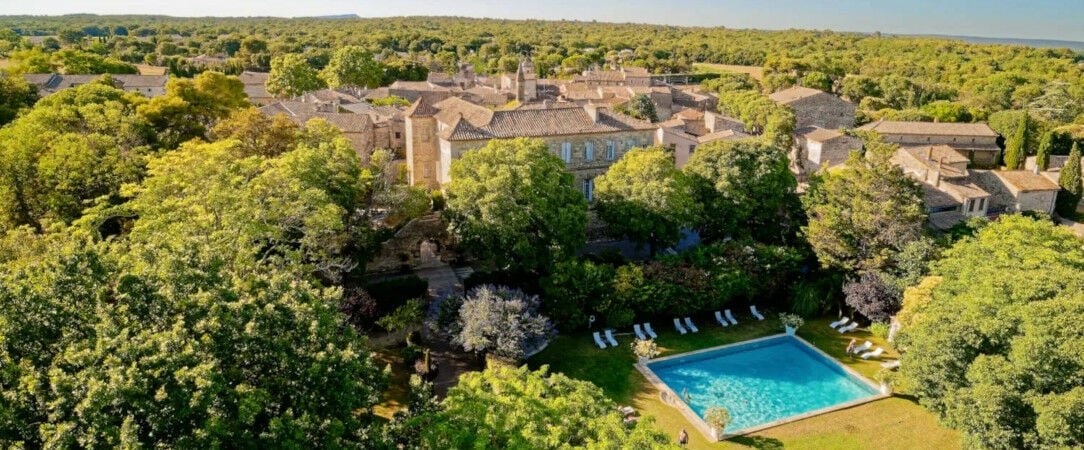 Château d'Arpaillargues is a stunning 18th-century château that perfectly preserves the authentic atmosphere of rural France. The hotel's peaceful setting provides a great opportunity to unwind and take your time to enjoy the slow lifestyle of rural France. You can relax by the pool, stroll around the village and countryside, and listen to the birds in pure tranquility. The Marie d'Agoult restaurant is an excellent choice for those who love fine local cuisine. The hotel's gardens offer a charming place to stroll around and enjoy the peaceful ambiance.
The golden limestone walls of the château have resisted the wear and tear of almost 300 years of history. Ivy creeping around the windows adds to the clichéd rustic charm. Bedrooms feature antique furnishings and traditional mosaic tiling in the bathrooms. Modern amenities like bespoke toiletries, flat screen TVs, and air conditioning are also available. The whole setting maintains a timeless character, with the château and secluded gardens set in the sleepy village of Arpaillargues, where you can experience traditional village life.
If you want more excitement, a short drive, easy cycle, or scenic walk will lead you into the town of Uzès, one of several ancient Roman towns in the area, and home to one of the best markets in the South of France. You can also explore the famous Pont du Gard, the gigantic bridge whose scale simply beggars belief. The aqueduct leads all the way to Nimes, famous for its magnificent Roman amphitheater and traditional Provencal spirit.
On the other hand, if you prefer to stay at the château, you can enjoy a range of activities, including a tennis court, outdoor Jacuzzi, boules, and bikes to rent. You can also spend a whole day doing nothing at all, just relaxing by the pool or working on your latest novel like the famous writers before you. The Château d'Arpaillargues is full of unforgettable experiences, and you may never want to leave.
---
For more on luxury lifestyle, travel and news follow our Instagram and subscribe to our VIP network to access special invites, discounts, and upgrades.