Prepare to be charmed by a kaleidoscope of hues and textures as Van Cleef & Arpels presents its exquisite exhibition, "Jeux de couleurs, jeux de matières," at the Maison 's Galerie du Patrimoine, Place Vendôme in Paris. From June 30, 2023, to January 9, 2024, this extraordinary showcase pays homage to the Maison's penchant for chromatic harmonies and contrasting materials from the remarkable decades spanning the 1950s to the 1970s.
Embark on a journey through time, where fifty-five magnificent jewelry pieces from Van Cleef & Arpels' cherished heritage collection, alongside archival treasures, unveil a mesmerizing palette of radiant gemstones, all presented in a scenography reminiscent of the iconic 1970s style.
Since the 1950s, a breath of freedom has swept through various forms of art, nurturing the imagination of the Maison. Its creations are adorned with unexpected material combinations: lapis lazuli, turquoise, agate, tiger's eye, and coral. The audacious fusion of gemstones contributes to perpetuating the house's distinctive style. In 1954, Van Cleef & Arpels introduced "la Boutique," a new range of more accessible pieces comprising "day" jewelry designed for everyday wear.
The 1960s are characterized by an explosion of colors and diverse materials, combined in sculptural jewelry that revolutionized the field. Long necklaces in yellow gold and ornamental stones adorned the fluid silhouettes of Yves Saint Laurent, Courrèges, and Paco Rabanne. During this time, the Arpels brothers' trips to India introduced various inspirations from Indian craftsmanship, such as motifs, textiles, and shimmering chromatic nuances. In this decade, the cocktail ring became an essential accessory for elegant women at prestigious soirées. Its prominent and vibrant center stone, highlighted by a voluminous structure, rendered this piece iconic.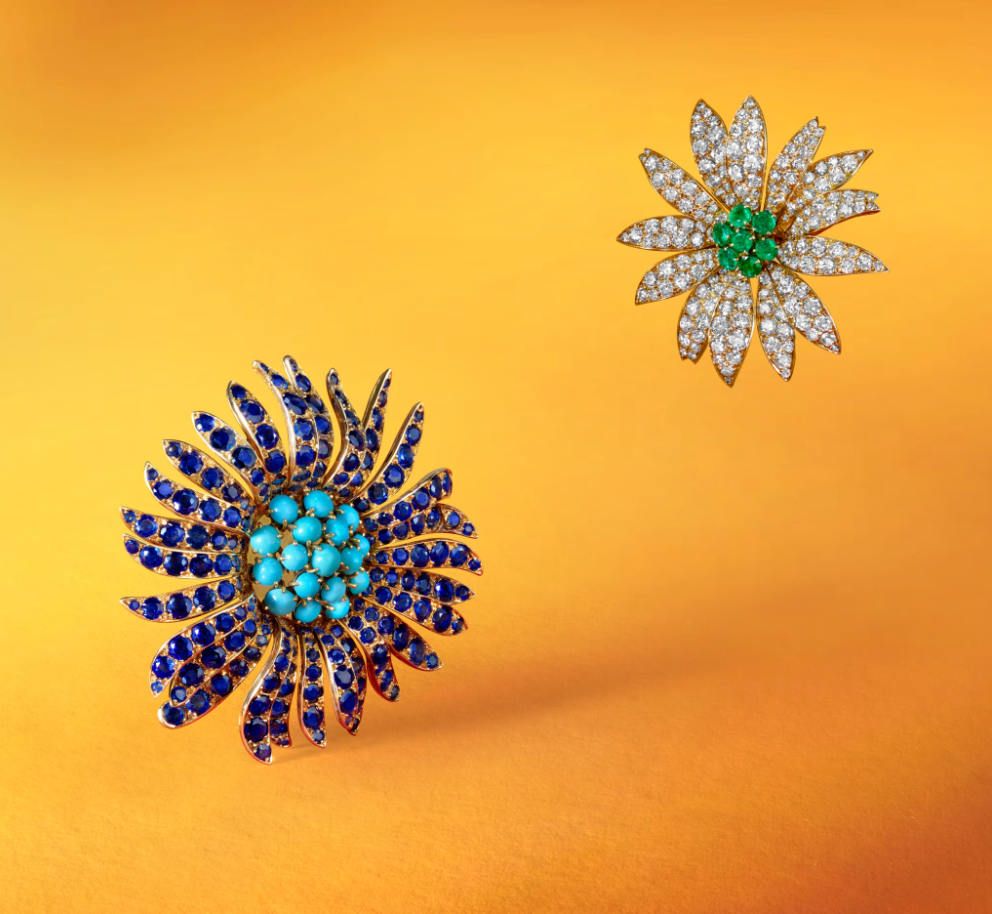 The spirit of freedom that characterizes the 1970s is reflected in the art of jewelry-making. Pieces of a new kind captivate with their quality and diverse styles. Long necklaces remain in vogue, complementing the fluidity of fashion ensembles. Twisted or granulated gold is paired with opaque and luminous materials like the "peau d'ange" coral in the Pompon model. Simultaneously, opulent pieces inspired by the East come to life. Violet amethysts and grenadine-hued tourmalines, ribbed or engraved, are associated with gold and diamonds in a necklace and a letter opener, both created in 1976.
Between the 1950s and 1970s, Van Cleef & Arpels excelled in numerous fields of expression: materials, aesthetics, techniques, metamorphoses, and many more. By presenting itself as a jeweler with a particularly generous chromatic palette, the Maison asserts its creativity and pronounced taste for color.
The "Jeux de couleurs, jeux de matières" exhibition invites you to delve into the vibrant world of Van Cleef & Arpels' jewelry heritage. It serves as a testament to the Maison's enduring influence and its ability to capture the essence of different eras while pushing the boundaries of creativity. Whether it is through the unexpected combinations of gemstones or the innovative use of materials, Van Cleef & Arpels continues to redefine the art of jewelry-making and enchant enthusiasts worldwide.
If you find yourself in Paris between June 30, 2023, and January 9, 2024, make sure to visit the Galerie du Patrimoine at 20, Place Vendôme. This exhibition promises to be a remarkable celebration of Van Cleef & Arpels' rich legacy, where you can immerse yourself in a world of colors and textures that transcend time. Best of all, admission is free, offering an opportunity for everyone to experience the magic of Van Cleef & Arpels.
---
For more on luxury lifestyle, travel and news follow our Instagram and subscribe to our VIP network to access special invites, discounts, and upgrades.