As the warm sun bathes the picturesque island of Corsica, it beckons travelers seeking a genuine escape, far from the crowds and commercialism. In this article, we invite you to uncover a selection of boutique hotels and private beaches that embody the spirit of Corsica, offering an unparalleled blend of originality, tranquility, and cultural immersion.
From hidden gems nestled amidst olive groves to coastal havens overlooking the crystal-clear waters of the Mediterranean, embark on a journey of authentic experiences and unforgettable moments in this enchanting Mediterranean paradise.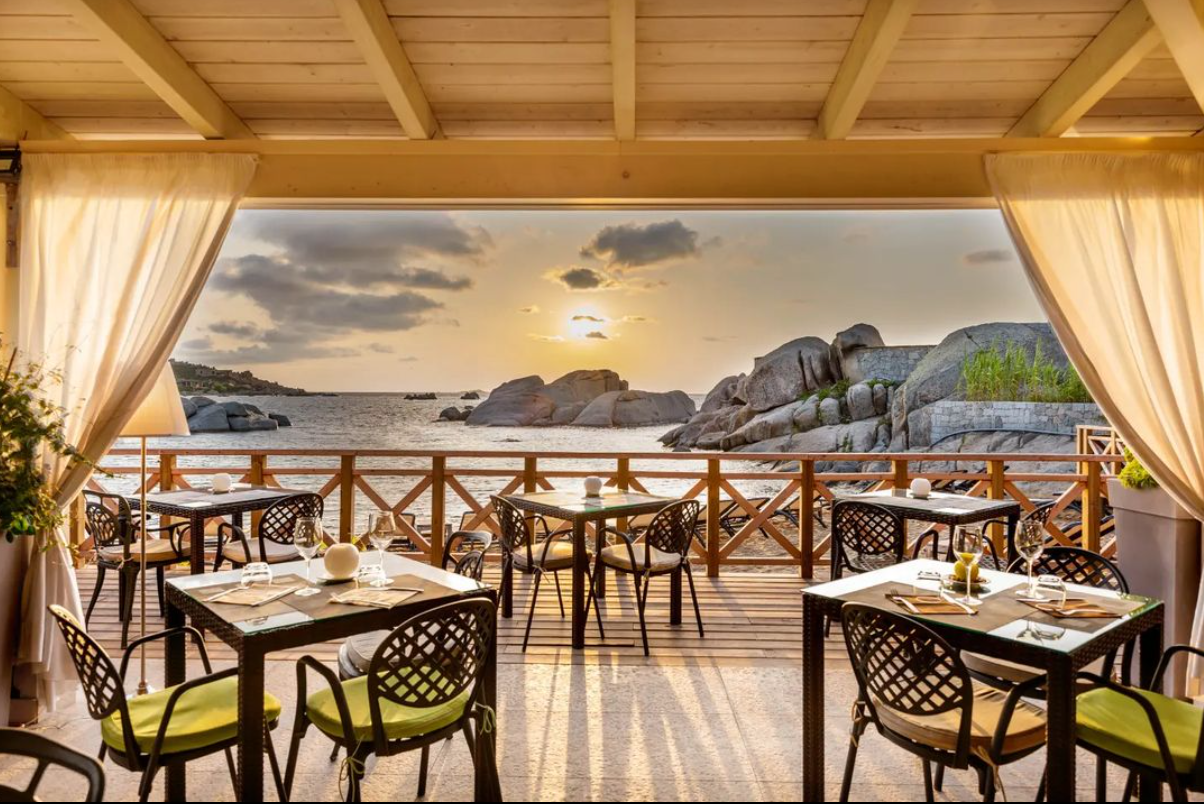 HÔTEL & SPA DES PÊCHEURS- CAVALLO
Exclusivity reigns supreme at the Hotel & Spa des Pêcheurs. Nestled on the private island of Cavallo, this boutique hotel offers a truly exceptional experience. From the luxury of residing on an enchanted island surrounded by endless shades of blue, to the impeccable service and stunning vistas, every aspect is designed to create an exclusive retreat.
With its blend of French and Italian culinary delights, the restaurant caters to every palate, while the bar serves up refreshing drinks to complement the idyllic island days. Unforgettable relaxation awaits at the spa, ensuring that each stay is a truly unforgettable one. Cavallo Island itself is a haven of preserved beauty, boasting 8 kilometers of coastline adorned with fine sandy beaches and pink coral, along with crystalline, untouched waters that can be enjoyed in absolute privacy. Welcome to the world of luxury, emotion, and exclusivity at Hotel & Spa des Pêcheurs on the captivating island of Cavallo.
---
CALA DI GRECO- BONIFACIO
The Hotel Cala di Greco in Bonifacio is a hidden gem, offering an unforgettable experience on the island of Corsica. Situated just two kilometers away from the captivating cliffs of Bonifacio, this charming hotel stands out among the rest. With its expansive seven-acre estate adorned with ancient olive trees and myrtle bushes, the Cala Di Greco exudes a sense of luxury and tranquility.
The true essence of opulence lies in the abundance of space, as only 18 suites are nestled within this idyllic setting, sharing two heated outdoor pools. In 2021, the addition of five sumptuous new suites, including the breathtaking Signature suites with private heated pools and panoramic views of the maquis and the sea, further enhances the offerings. Each suite at Cala Di Greco is light, contemporary, and seamlessly blends indoor and outdoor living, boasting a private patio and terrace – a rare luxury in the region.
This boutique hotel provides a genuine immersion into the natural beauty of Corsica, offering sophistication without pretension. The five suites with private pools epitomize refinement and luxury. Immerse yourself in a revitalizing stay amidst the scents and essences of the maquis, and indulge in the unparalleled beauty of this breathtaking landscape. From the historical citadel of Bonifacio to the sparkling Mediterranean Sea and the Sardinian coastline, the panoramic views from the Cala Di Greco suites are simply mesmerizing.
Surrounding you is the lush greenery of the southern Corsican maquis, perfumed with the authentic essences of the region. Embrace the lightness and serenity of the days within this haven of preserved nature. The hotel's prime location offers easy access to the sandy beaches of La Tonnara, Piantarella, and Sant'Amanza, as well as the renowned beaches of Porto Vecchio, such as Palombaggia, Santa Giulia, and Pinarello. Discover the untamed beauty of this region that is waiting to be explored, including world-renowned sites like the Sperone Golf Course, the Murtoli Estate, the neighboring island of Cavallo, and the Lavezzi archipelago.
LA SIGNORIA & SPA– CALVI
Nestled between the sea and mountains, just 2 km from Calvi Bay in Corsica. Formerly part of the Genoese Paradella estate, this beautifully restored 18th-century building exudes authentic Corsican charm. Surrounded by a three-hectare park filled with the scents of the maquis, you can unwind in the heated swimming pool, steam room, sauna, gym, and jacuzzi. The Spa Casanera offers organic treatments crafted from local ingredients.
For a memorable beach experience, you can visit Signoria Mare, the hotel's partner beach located along the famous white sand beach of Calvi. In the restaurant, Chef Alexandre Fabris delights guests with a fusion of authentic Burgundian and Corsican cuisine, highlighting local products such as langoustine from Cap Corse, Dentex fish, wild pork, and artisanal liqueurs made from citron and myrtle.
---
DOMAINE POZZO DI MASTRI – FIGARI
For an authentic stay in Figari, why not explore Domaine Pozzo Di Mastri? Ideally located between Bonifacio, Porto-Vecchio, and Col de Bavella, this beautiful family estate has been welcoming guests since 1987. Nestled in the midst of 80 hectares of olive trees, vineyards, vegetable gardens, orchards, and grassland, the estate offers a truly serene and idyllic setting.
The highlight of the estate is its unique production of a blue wine called Imajyne, named in honor of their father Milanini-Auriol Jean-Yves (majy). Upon arrival, guests are greeted by a magnificent dry stone house with three tastefully decorated guest rooms, reflecting the pure Corsican tradition. Relaxation awaits by the wonderful pool with its solarium and pool-house, where peace, tranquility, and rejuvenation are guaranteed. At Domaine Pozzo Di Mastri, immerse yourself in the calm and beauty of nature for a delightful and revitalizing stay.
HOTEL LA VILLA – CALVI
Step into the extraordinary world of La Villa, perched on the heights of Calvi, and be captivated by its exceptional beauty. The first thing that will take your breath away is the breathtaking view, overlooking the bay and the city with the majestic citadel. The park surrounding the villa was once a monastery and has been carefully developed to preserve and showcase its diverse species. As you wander through the three-hectare estate, you'll encounter enchanting avenues of cypress trees, patches of myrtle, and fragrant shrubs that epitomize the essence of the Corsican maquis.
The Mediterranean architecture reflects the charm of nearby villages, while the hotel boasts an Italian-influenced restaurant, a vibrant Pool Bar with live music, a cozy bar, a luminous Spa, a designer boutique, and captivating art exhibitions. At La Villa, you will embark on a unique and immersive journey through the soul and identity of Corsica. Immerse yourself in the tranquility of the Villa Spa, offering a serene and warm space where you can indulge in rejuvenating treatments inspired by THEMAE and DERMALOGICA, featuring the beneficial properties of the four teas and cutting-edge scientific research. Enjoy access to our heated indoor pool at 28°C, our fitness room, and our two hammams.
---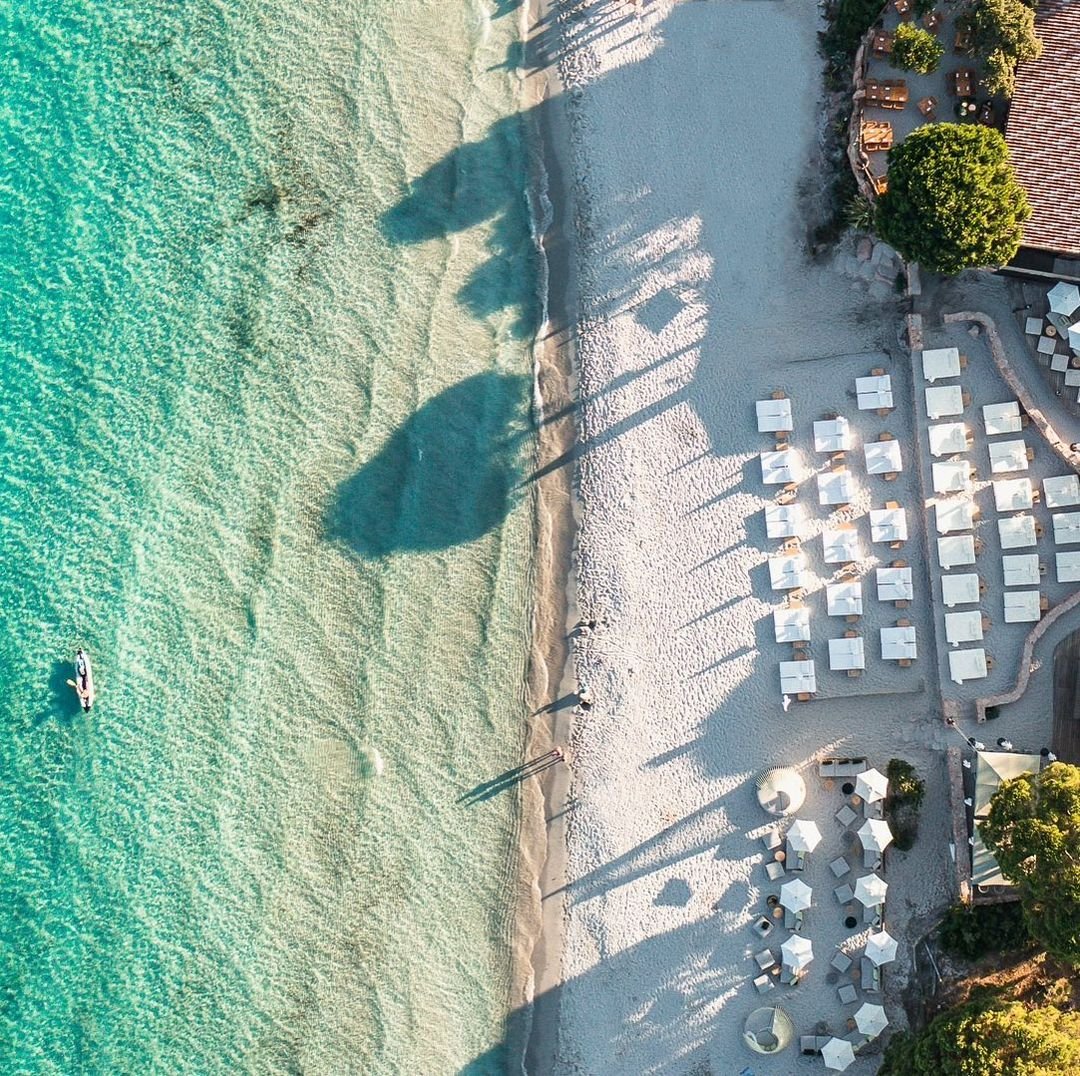 DA MARE BY SEA LOUNGE – PLAGE DE PALOMBAGGIA, PORTO-VECCHIO
After just one year since its remarkable revival, Da Mare by Sea Lounge solidifies its position as a must-visit destination. Nestled between the mesmerizing sea and the enchanting Corsican maquis on the renowned Palombaggia beach, named France's finest in 2019, this trendy and welcoming establishment offers unforgettable experiences. The architect Patrice Gardera's expertise, also known for his work on Da Passano in the port of Bonifacio, brilliantly combines with custom-made furniture to create an elegant and luxurious ambiance within the magical 1,500 m² setting.
Those in search of pristine sandy beaches and crystal-clear waters can delight in sunset drinks at the cocktail bar, while various design-inspired and laid-back atmospheres, along with cozy lounge areas accompanied by the tunes of the in-house DJ, cater to family gatherings or evenings with friends.
Da Mare also serves as a dreamy venue for unforgettable wedding parties. From April onwards, guests can savor the creations of talented chef Stéphanie Ruelle, who skillfully blends tradition and modernity to craft a selection of gourmet delights. Indulge in irresistible offerings like the ceviche and tartare bar, or relish the spring roll featuring ray fish, stuffed courgette flowers, and goat cheese. To ensure utmost convenience and comfort, a shuttle-boat service is available for those seeking to embark on a seamless journey to this idyllic oasis by the sea.
---
L'OASIS SANTA GIULIA – PLAGE DE SANTA GIULIA, PORTO-VECCHIO
Located on the stunning shores of Corsica, offers a tranquil and eco-friendly beach experience like no other. With its organic beach bar featuring locally sourced, high-quality products, guests can indulge in a selection of fresh salads, juices, fruits, cheeses, and organic wines. The beach's transformation from a former tennis court showcases a strong commitment to sustainability, with eco-friendly materials used for furniture, crockery, and decorations. Relaxation is taken to new heights with yoga, massages, and Body Balance sessions, allowing visitors to harmonize with the soothing sounds of the lapping waves. L'Oasis Santa Giulia is a true haven, where nature's beauty and environmental consciousness come together in perfect harmony.
---
LE 37°2 – LECCI
For the past 20 years, Carole and André have warmly welcomed guests to their elegant, laid-back, and family-friendly establishment situated on the stunning Cala Rossa beach. With the talented chef Rémi Muzy at the helm, the restaurant offers fresh and flavorful Mediterranean cuisine. It has become an exclusive destination for wedding receptions, anniversaries, seminars, and other private events. Additionally, a wooden boutique near the entrance offers a curated selection of clothing for both men and women.
Picture a beach adorned with parasols, tables impeccably set overlooking the sea and sand, and a menu that embodies the essence of contemporary gastronomy—that's André Terrazzoni's haven.
---
For more on luxury lifestyle, travel and news follow our Instagram and subscribe to our VIP network to access special invites, discounts, and upgrades.