A true cultural pillar of the country, it is the reflection of its different roots. In the heart of an ocean of flavors, the island is full of fine dining experiences that invite you to take a true gustatory journey and make exceptional culinary discoveries. Let's take a look at these exceptional culinary addresses which have given the destination its reputation!
Bagatelle St. Barths offers a breathtaking view of one of the most beautiful marinas in the world. The restaurant is a tropical destination to enjoy a lively and sparkling atmosphere in the idyllic setting of the Caribbean. This joie de vivre, anchored in the DNA of the Bagatelle, is reflected in its refined cuisine as well as in its new contemporary decor conducive to conviviality.
24 Rue Samuel Fahlberg, Gustavia, 97133 Saint-Barthélemy +590 590 27 51 51 | www.bagatelle.com/venues/st-barths
Since 1995, chef and master restaurateur Pascal Giglio has been at the helm of this island's must-see pirate tavern. On the menu, fresh and local products, as well as quality meats grilled on the charcoal BBQ that make its reputation. Ti St Barth is the perfect place to party, you can attend cabaret performances and borrow accessories from the costume shop to have fun on the dance floor.
Vitet, Saint Barts +590 590 27 97 71 | https://fr.tistbarth.com/
SELLA: CHEF ASSAF GRANIT'S NEW RESTAURANT
From the Hebrew word Sella, which means "rock", the establishment created in collaboration with JLM Group is a nod to the island's natural setting and the stone of Jerusalem. In a clean atmosphere with warm colors, Sella promises a festive, eclectic experience that brings people and cultures together. The menu offers the best of Assaf Granit's cuisine made with exclusively local products. Contemporary and creative cuisine inspired by the Chef's origins, oriented toward sharing.
Plage de public, 97133 Saint-Barthélemy +590 690 56 15 22 | www.sellasaintbarth.com
---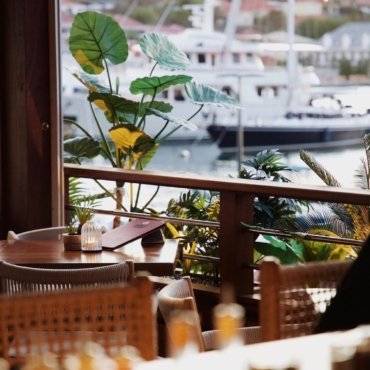 L'ATELIER DE JOËL ROBUCHON SAINT-BARTH
With its large terrace and panoramic view of Gustavia harbor and the Caribbean Sea, the gourmet restaurant L'Atelier de Joël Robuchon Saint-Barth offers French haute cuisine and displays its particular signature: open kitchen, red and black décor designed by Pierre-Yves Rochon, subdued lighting and guests seated at the counter comfortably enjoying the ballet of the kitchen brigade. A friendly and elegant concept where original French cuisine is served in a comfortable and relaxed setting, mixing art deco and tropical atmosphere.
15 rue du Bord de Mer, Gustavia, 97133 Saint-Barthélemy +590 590 77 30 30 | www.ateliersaintbarth.fr
LA PETITE PLAGE BY ÉRIC FRECHON
The Annie Famose Group has chosen the island of Saint Barthélémy to inaugurate its second address, again under the culinary direction of Chef Éric Frechon.
La Petite Plage Saint-Barth is a place to be with your feet in the sand, in an authentic decor, with natural wood, emerald touches and soft colors, where you can enjoy a cuisine of fine products, summery, joyful and contemporary.
Rue du Bord de Mer, Gustavia, 97133 Saint-Barthélemy +590 590 27 73 00 | www.restaurant-lapetiteplage-saintbarth.com
RIVYERA BY ARNAUD FAYE AT CHRISTOPHER
Chef Arnaud Faye, 2 stars and best worker in France, was inspired by the chic and relaxed lifestyle of the French Riviera to create the new restaurant concept of the Christopher St Barth, RIVYERA. More than a restaurant, a unique experience to live from morning to night. The spirit of the Riviera truly takes possession of the premises, and offers a strong Mediterranean culinary identity.
Pointe Milou, Gustavia, 97133 Saint-Barthélemy +590 590 27 63 63 | www.hotelchristopher.com/restaurant-rivyera
LA CASE BY JEAN IMBERT AT CHEVAL BLANC
Jean Imbert imagined the restaurant La Case as a meeting place for the flavors and art of living of the Caribbean. He has created a restaurant at Cheval Blanc that illustrates the strong local roots of the island's unique way of life. The spices of the islands warm up the meats and the vegetables are combined with the herbs grown on the island. The fruits of the Caribbean and the cocoa of the surrounding islands are at the heart of the dessert menu.
Baie des Flamands Saint-Barthélemy, 97133 Saint-Barthélemy +590 590 27 61 81 | www.chevalblanc.com/fr/maison/st-barth-isle-de-france/ restaurants-and-bars/la-case/
THE SAND BAR BY JEAN-GEORGES VONGERICHTEN AT THE EDEN ROCK
The Sand Bar is the gastronomic heart of the Eden Rock Hotel where renowned Chef Jean-Georges Vongerichten dedicates his cuisine to gourmets in search of healthy pleasures. Sand Bar classics such as truffle pizza or crispy salmon sushi are accompanied by new gastronomic gems. An exclusive music selection captures the unique atmosphere of the island and sets the tone in this hedonistic colonial setting.
Baie de Saint Jean, 97133 Saint-Barthélemy +590 590 29 79 99 | www.oetkercollection.com/fr/hotels/eden-rock-st-barths/ restaurant-bar/sand-bar/
FOUQUET'S SAINT-BARTH BY PIERRE GAGNAIRE AT CARL GUSTAF
Signed by Pierre Gagnaire at the Carl Gustaf, the Brasserie Le Fouquet's invites itself to the Caribbean revisiting the great classics, flavored with spices and local flavors, with a unique panoramic view of Gustavia. Hardwood, wicker furniture and soft materials, designed by Gilles and Boissier, honoring the Parisian art of table service: a cart of aged cheeses, pedestal table service worthy of the greatest brasseries, presentation and preparation on the plate with the philosophy of "elegance and passion".
Rue des Normands, Lieu Dit Lurin, 97133 Saint-Barthélemy +590 590 29 79 35 | www.hotelsbarriere.com/fr/saint-barth/le-carl-gustaf/ bars-and-restaurants/fouquets-saint-barth.html
---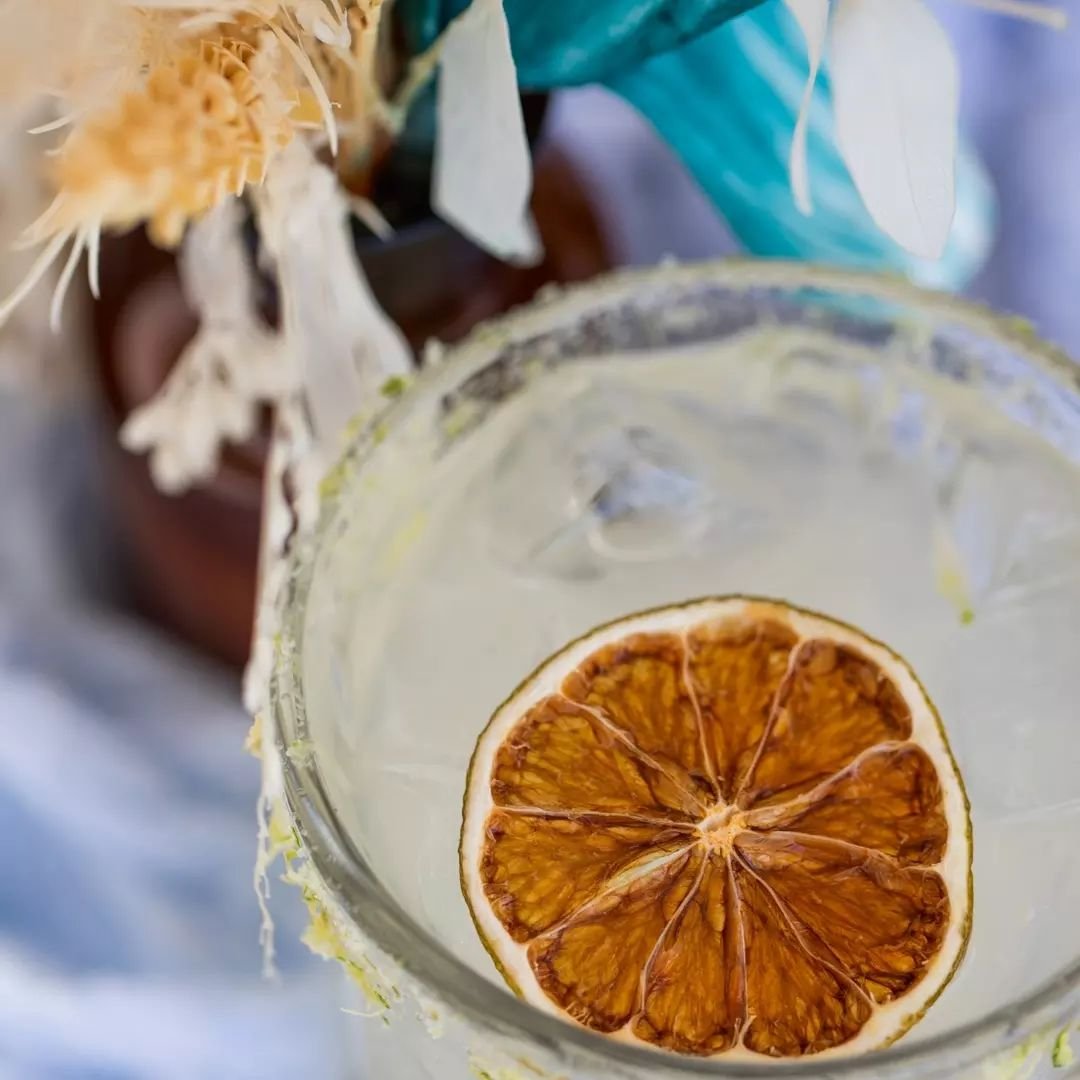 This Thai restaurant located in the heart of Saint Barth opens its interior garden to lovers of starry skies and authentic Thai cuisine. The Black Ginger, named after a form of ginger that is very popular in Thailand, offers refined cuisine in which the flavors of Thailand are sublimated by a trio of renowned Thai chefs.
Rue Samuel Fahlberg, Gustavia, 97133 Saint-Barthélemy +590 590 29 21 03 | www.blackgingersbh.com/fr/
L'ESPRIT
An institution where you can dine with your head in the stars in the heart of a tropical garden. A romantic atmosphere as soon as the night falls. An inventive and structured cuisine, combining the flavors of the world, prepared with a certain simplicity and using noble products. One of the specialties of the Chef, Jean-Claude Dufour, is the pigeon. Everything is a meticulous refinement that awakens your taste buds and senses in a warm and harmonious atmosphere.
Anse de Grande Saline, Salines, 97133 Saint-Barthélemy +590 590 52 46 10
Overlooking the port of Gustavia, the Bonito is a must for both its view and its cuisine. Chef Laurent Cantineaux combines French techniques with South American products. A refined cuisine to be savored in a cosy-chic setting that promises a true sensory experience.
Rue Lubin Brin, Gustavia, 97133 Saint-Barthélemy +590 590 27 96 96 | www.bonitosbh.com/fr/
A Caribbean oasis in the heart of Gustavia, Eddy's Ghetto is hidden in a huge garden, between the almond and latanian trees typical of the island. It is in the heart of this setting that Chef Franck prepares the delicious French and Creole cuisine for which it is famous.
Rue Samuel Fahlberg, Gustavia, 97133 Saint-Barthélemy +590 590 27 54 17 | www.eddysghetto.com/fr/
L'ISOLA
The best of Italian gastronomy in Saint Barth. At the restaurant l'Isola, Fabrizio, a native of Rome, offers recipes made with quality ingredients from Italy and makes fresh pasta directly on site. Housed in a traditional Creole building, L'Isola celebrates Italian cuisine in a romantic and cozy setting.
Rue du Roi Oscar II, Gustavia, 97133 Saint-Barthélemy +590 590 51 00 05 | www.lisolastbarth.com/
KINUGAWA
The new address of the Blackcode Group's flagship restaurant in the West Indies celebrates Japanese gastronomy and the French art of living in an elegant and glamorous light wood decor with turquoise and azurean hues.
Chef Takeshi Hoshino and his brigade offer dishes that combine tradition with his vision of contemporary Kinugawa gastronomy.
33 Rue Jeanne d'Arc, Gustavia, 97133 Saint-Barthélemy +590 590 51 13 55 | www.kinugawa.fr/saint-barthelemy
LA GUERITE
Idyllic setting and Mediterranean flavors, La Guerite celebrates the cuisine of the south from the lemon trees of Amalfi to the Cyclades. Located on the tip of Gustavia harbor, the restaurant offers an incomparable view of the harbor, its fishing boats and sublime yachts. As for the cuisine, chef Yiannis Kioroglou sublimates his recipes with healthy and seasonal products that will delight your taste buds.
La Pointe, Gustavia, 97133 Saint-Barthélemy +590 590 27 71 83 | www.saintbarth.restaurantlaguerite.com/
OREGA
Orega, the new ultra-popular Franco-Japanese meeting place in St. Barts, has set up shop in Gustavia near the gigantic ship anchor. Orega, or "It's mine" in Japanese, offers a unique concept, a fusion between art and cuisine. Chef Clement Laffitte, who combines French and Nipponese cuisine, stands out for his remarkable finesse while in the dining room it is possible to admire the works of artist Kate Kova.
Rue Samuel Fahlberg, Gustavia, 97133 Saint-Barthélemy +590 590 52 45 31 | http://oregastbarth.com/
TAMARIN
Nestled in a tropical garden, in the heart of lush vegetation and in the shade of dozens of palm trees, the century-old Tamarin tree and its tropical house open the doors to its enchanting park.
Jérôme Lebeau signs a gourmet, generous and creative cuisine. A fusion between French terroir and local touches, traditional flavors mingle with the freshness of the exotic.
Route de Saline, 97133 Saint-Barthélemy +590 590 29 27 74 | www.tamarinstbarth.com
NIKKI BEACH
The place to be for a festive atmosphere, Nikki Beach Saint Barth is undoubtedly the trendiest destination for guests looking for fun and refinement. A true haven of luxury on the bay of St. Jean, Nikki Beach offers a selection of fresh dishes and cocktails to enjoy while listening to music in a heavenly setting.
Place de St. Jean, Saint-Jean, 97133, Saint-Barthélemy +590 590 27 64 64 | https://saint-barth.nikkibeach.com//
---
AMIS ST. BARTH AT LE BARTHÉLÉMY HOTEL
Nestled at the end of a magnificent bay facing the ocean, Amis St. Barth is a haven of peace and refinement. In a natural setting of rare beauty, all the spirit of St. Barth is concentrated here where elegance, tranquility and discretion emanate. The combined talents of architect Sybille de Margerie and the delicious Mediterranean cuisine of Chef Vincent Gomis make this address exceptional.
Baie de Grand Cul de Sac, 97133 Saint-Barthélemy +590 690 52 51 16 | www.amisrestaurant.com
LE SERENO AL MARE AT THE HOTEL LE SERENO
Open to the lagoon and shaded by coconut palms, Le Sereno Al Mare restaurant is headed by Executive Chef Raffaele Lenzi. His new menu redefines the Caribbean dining experience by focusing on local ingredients, expertly transformed into simple and delicious contemporary Italian cuisine. Its idyllic beachfront setting offers guests an unforgettable dining experience. Located on the beach of St. Barth's coveted Grand Cul de Sac, it's the perfect place to enjoy sunsets and extraordinary food.
Grand Cul De Sac, 97133 St. Barts +590 590 29 83 00 | https://www.serenohotels.com/fr/property/le-sereno/restau- rant-in-st-barths/
BEACH HOUSE AT THE ROSEWOOD LE GUANAHANI ST. BARTH
Beach House St. Barth is an experience dedicated to every moment of the day. In the kitchen, Chef Riccardo Schievano offers his interpretation of Mezze cuisine: a range of light, Mediterranean-inspired dishes that celebrate sharing, accompanied by a selection of wines that embody the flavors of the island and its various influences. On the menu, octopus barbecue with sundried tomatoes, marinated sardines or Caribbean mahi-mahi tandoorie. Beach House St. Barth is nestled in the heart of Grand Cul de Sac Cove and offers a variety of experiences throughout the day while facing the ocean and its breathtaking views.
Anse de Grand Cul-de-Sac, 97133 Saint-Barthélemy +590 590 52 90 01
---
FISH CORNER
Fish Corner is a family-run market food that celebrates local fish. Every day, fresh arrivals are available to taste on site or to take away to discover Caribbean flavors.
Rue de la Republique, Gustavia, 97133 Saint-Barthélemy
THE ISOLETTA
Fancy a real Italian pizza? L'Isoletta offers "alla romana" pizzas with ingredients imported from Italy in a warm setting.
Rue du Roi Oscar II, Gustavia, 97133 Saint-Barthélemy +590 590 52 02 02 | www.lisolettastbarth.com/
TI CORAIL
Feeling hungry on the beach? The Ti Corail food truck is located on the beach at the Grand Cul de Sac lagoon and serves simple food: fish, herbs and salads that change according to the daily arrivals.
Grand Cul de Sac, 97133 Saint-Barthélemy +336 90 41 78 59
GRAIN DE SEL
Creole cuisine at the entrance to Saline beach, chef Eddy of Guadeloupean origin shares recipes from his island, a fusion of French, Asian and West Indian cuisine.
Rte de Saline, Salines, 97133 Saint-Barthélemy +590 590 52 46 05
BAZ BAR ( Bête à Z'ailes )
In the heart of Gustavia, the Bête à Z'ailes is the ideal place to have a drink on the terrace and enjoy their new concept: bento box, salad bar or poke bowl. In addition to these novelties, the sushi offer remains available.
Rue Samuel Fahlberg, 97133 Saint-Barthélemy +590 590 29 74 09
LE SELECT
A legendary address founded in 1949 by Marius Stakelborough, Le Select offers a warm atmosphere right on the beach. It is the ideal place to have a drink at one of the small wooden tables on the shaded terrace.
Rue de la France, Gustavia, 97133 Saint-Barthélemy +590 590 27 86 87
LE SANTA FÉ
With a breathtaking view of the sea and the surrounding islands. Le Santa Fé offers traditional dishes in an exceptional setting.
Route de Lurin, 97133 Saint-Barthélemy +590 590 27 61 04
LE ZION
In a tropical atmosphere, Jean-Baptiste Piard, chef of the Zion restaurant, offers spicy and refined cuisine, influenced by his many travels.
The place is proud of its eco-responsible philosophy, Zion is built from clean materials and is committed to several approaches such as the use of local products, the elimination of waste and less waste. An exotic and sustainable address not to be missed on the island of Saint Barth.
Center Vaval, St Jean, St Barthélémy +590 590 27 63 62
---
For more on luxury lifestyle, travel and news follow our Instagram and subscribe to our VIP network to access special invites, discounts, and upgrades.